ES44AC Tier 4 Locomotive NS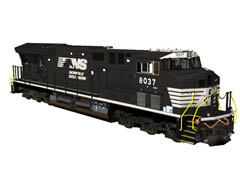 <kuid:578474:100097>
| | |
| --- | --- |
| Author: | davidakridge |
| Kind: | traincar |
| Build: | 2.9 |
| Size: | 5.57MB |
| Uploaded: | 01.01.1970 |
ES44AC Tier 4 Locomotive painted in NS Black Livery. Thanks to Dave Snow for creation of this model and giving me permission to reskin and upload to the DLS

In August 2012 GE released its Tier 4 ES44AC prototype, this locomotive looks very different from a Tier 2/3 ES44AC. GE is now in the process of building 20 more Tier 4 ES44AC's. Tier 4 regulations started on Jan 1st , 2015. This Tier is the final and most stringent of the standards.

Tier 4 ES44AC's retain most features of previous ES44AC's, but they have raised humps in the middle, as well as a larger, more sloped radiator in back with two cooling fans.
ES44AC Tier 4 Locomotive NS

body

arn_gecx.im

5.31KB

arn_bnsf.im

5.95KB

digit_1b.texture

2.74KB

digit_1a.texture

2.74KB

digit_2b.texture

2.74KB

digit_1c.texture

2.74KB

digit_2a.texture

2.74KB

digit_2c.texture

2.74KB

digit_3c.texture

2.74KB

digit_3b.texture

2.74KB

digit_3a.texture

2.74KB

digit_4b.texture

2.74KB

digit_3d.texture

2.74KB

digit_4a.texture

2.74KB

digit_4c.texture

2.74KB

digit_4d.texture

2.74KB

digit_5b.texture

2.74KB

digit_5a.texture

2.74KB

digit_5c.texture

2.74KB

digit_5d.texture

2.74KB

digit_6b.texture

2.74KB

digit_6a.texture

2.74KB

digit_6d.texture

2.74KB

digit_6c.texture

2.74KB

reflection art.texture

170.75KB

side vent screens.texture

341.43KB

decals.texture

682.75KB

plow and accessories.texture

682.75KB

coupler new art.texture

682.75KB

shadow.im

1.67MB

es44ac_tier_4_ns_des.im

1.80MB

loco art.texture

2.67MB

interior for loco lo res.texture

2.67MB

interior walls.texture

2.67MB

plow and accessories-plow and accessories.texture

1.33MB

loco art-loco art.texture

5.33MB

$screenshot$.jpg

27.47KB

jr_loco.gs

53 bytes

jr_traincar.gs

64 bytes

mesh_alpha_numbers

alphanumber_2a.tga

16.04KB

alphanumber_0a.tga

16.04KB

alphanumber_3a.tga

16.04KB

alphanumber_1a.tga

16.04KB

alphanumber_1b.tga

16.04KB

alphanumber_5a.tga

16.04KB

alphanumber_3b.tga

16.04KB

alphanumber_2b.tga

16.04KB

alphanumber_4b.tga

16.04KB

alphanumber_4a.tga

16.04KB

alphanumber_0b.tga

16.04KB

alphanumber_6a.tga

16.04KB

alphanumber_7a.tga

16.04KB

alphanumber_8a.tga

16.04KB

alphanumber_7b.tga

16.04KB

alphanumber_9a.tga

16.04KB

alphanumber_9b.tga

16.04KB

alphanumber_5b.tga

16.04KB

alphanumber_8b.tga

16.04KB

alphanumber_6b.tga

16.04KB